How do you install smart glass film?
You know protection film for mobile phone, car window film, but do you know smart glass film ? The smart glass  film can be sandwiched between two pieces of glass to make smart glass, or it can be made into an adhesive Smart glass  film and pasted on the glass surface, both of which can realize the conversion between transparent and opaque glass.
self adhesive pdlc smart glass film
non adhesive pdlc smart glassfilm
PDLC smart Glass
Smart glass film  is usually applied in the field of architectural decoration, such as hotels, office buildings, shopping malls, apartments and other large-size glass.
Some customers have many questions about how to paste and use the dimming film because of their first contact with it. Below we list some precautions for you when pasting.
1. Determine the size
Once the size of the pdlc smart glass film is confirmed, basically it cannot be changed, so it is very important to measure the size of the glass, and only in this way can the pdlc smart glass film match the glass. Basically, a piece of glass is pasted with a smart glass film, but sometimes the glass is larger than the larger size of the smart film, and then multiple pieces of dimming smart glass film are required to be spliced and pasted. If it is a combination of glass and glass, you must pay attention to subtracting the size of the glass glue in the seam and mark it when cutting the dimming smart glass film.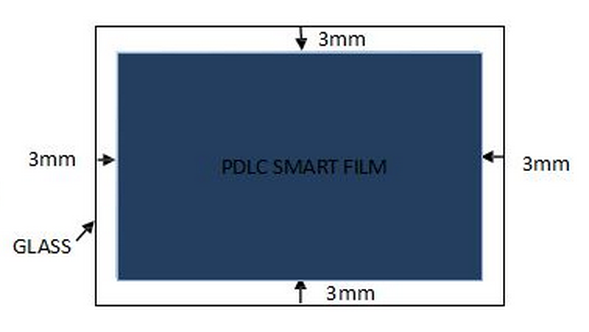 2. Determine the electrode position
It stands to reason that the electrodes of the dimming smart glass film can be placed on any side, but the ultra-long dimming smart glass film may require electrodes on both sides. The electrode position is better for the convenience of wire routing and connection to the power transformer.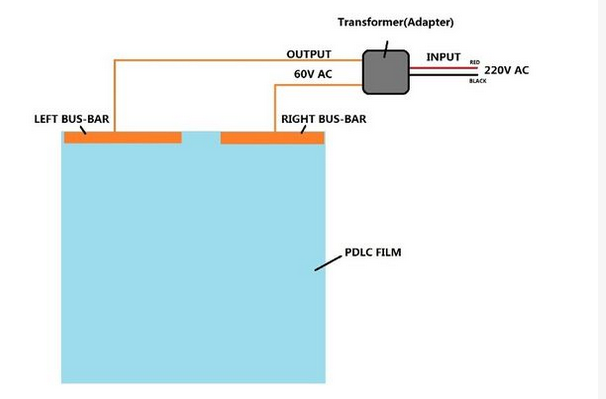 3. Glass cleaning
The dimmingsmart glass film can only be pasted after the dust and impurities on the glass surface are removed. If the glass cannot be cleaned with water, it can be scrubbed with alcohol.
4. The film should be pasted from top to bottom
First fix the top of the smart glass  film, tear off the protective film at an angle of 45 degrees from top to bottom, then align the glass, slowly stick the film on the glass, squeeze out the air bubbles with a scraper while sticking, do not use too much force. Also be careful not to covet the convenience of water stickers. This process requires the cooperation of more than 2 people to complete.
5. Protect the edge of the dimming smart glass film
After sticking the film, use one-sided adhesive to stick the edge of the protective film, and then slowly tear off the protective film. Do not use a blade or fingernails to scratch the protective film, it is easy to cause open edges.
6.For the switchable PDLC smart glass film, after installation, special neutral silicon sealant is required to seal the edge and electrode position, mainly there have the following reasons:
1). Prevent water vapor and other liquids from eroding the polymer and liquid crystal layer in the middle layer of switchable PDLC film;
2). Prevent water vapor and other liquids from eroding the electrode position;
3). Prevent the oxidation of copper strip and silver paste layer;
4). Prevent the edge of the film from separating from the glass due to air entering;
At the same time, the switchable PDLC film has the following requirements for the sealed silica gel:
(1. must use neutral silicon sealant;
(2. No shrinking for silicon sealant glue when dried;
(3. Silicon sealant without organic solvent and Plasticizer material;
We recommend Toshiba 381 or our special silicon sealant;
Other types of silicon sealant need to confirm with the supplier whether they meet the requirements and carry out use test before use;