Smart Film
Liquid Crystal "Switchable" Film is an exciting technology that allows us to make glass alternately clear or opaque; it can also be used to project images on, like a projection screen. Liquid Crystal Film, often times referred to as Smart Film, is visibly altered by an electric current that changes the state of the liquid crystals embedded in the film. The film can be laminated between two pieces of glass for a new construction or added as an after market improvement to existing glass.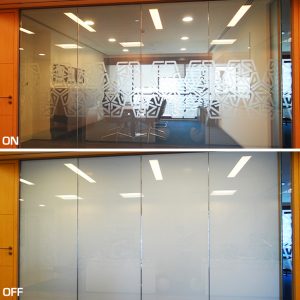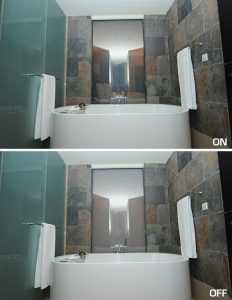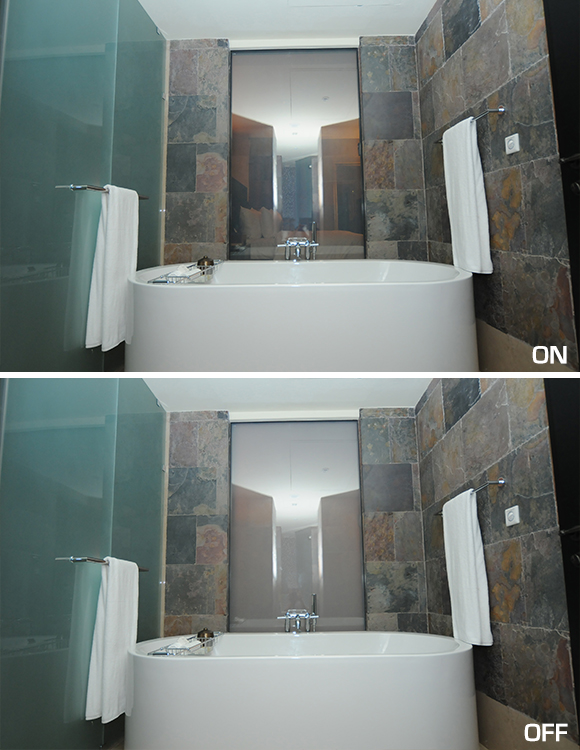 What is Smart Film?
Smart Film is a Polymer Dispersed Liquid Crystal (PDLC) Film . With an electrical current, the film can quickly change from clear (On) to opaque (Off). The pictures above are examples of Smart Film. When the power is turned Off, the liquid crystals turn into scattering position leaving the Smart Film opaque. When the power is turned On, the liquid crystals line up and changes the Smart Film from opaque to clear. The film can be dimmed to a desired amount of privacy with the use of a dimmer switch.
Immediately control your privacy and security with Smart Film that changes glass windows and glass doors from clear to opaque when you want it. Smart Film allows you to immediately control your own privacy and security with a simple switch, turning a clear transparent glass into an opaque glass wall with appealing aesthetics Transparency levels of Smart Films can be set by the user to their own personal preference. The user is in full control of their privacy,  improved comfort, and security. Smart Film can be used in a variety of applications for Residential, Commercial, and Healthcare Facilities. For Hospitals and Health Care Facilities, the Smart Film is the perfect solution for privacy because there is no danger of harboring bacteria or germs.
Smart film has been available for many years but the cost has been prohibitive to most. Today, Smart Film is available at a much more affordable price and is the perfect solution where privacy is needed on blind free windows. Life expentancy of the film – 80 Million Switching Times!