Anti Fog Film/  Mirror Degogger (PET/PVC)
mirror defogger(also called mirror demisters/mirror heater/heating pad)-featured with wear-resistance from US DuPont polyester materials, it has a number of benefits, including high temperature resistance(up to 260 degree), indeformable when heated under high temperature, reliable electric insulation(without breakdown for 1 min under 2750V) as well as the imported heating wire adopted(no disconnection for 1 min under 2750V).
Working principle
Mirror defogger  adhered to the back of a mirror and wired to the power cord, effectively transforms electricity power into heat energy, which is transferred directly to the mirror. Heating up the mirror, effectively prevent from condensation of steam on the mirror surface.


Product Features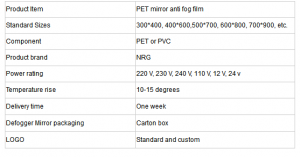 • Product thickness: the thickness film is only 0.4mm, this thickness guarantees the effective transfer of energy.
• Power saving: temperature maintained after the product is powered, effectively saving the electric power
• Strong security: Sustainable quality materials imported guarantees the strong insulation, no power under humid conditions
• Various options: the heating area of the bathroom anti fog mirror film is made in different shapes and sizes such as rectangular, oval, round etc. This not only plays the role of bathroom anti fog mirror film but also meets the personal requirement of creating a more comfortable and beautiful environment.
• Easy to install: the bathroom anti fog mirror film with self-adhesive backing glue, easy to install to mirror and work effectively.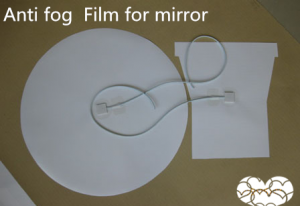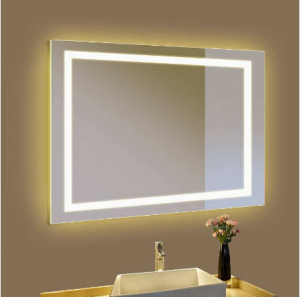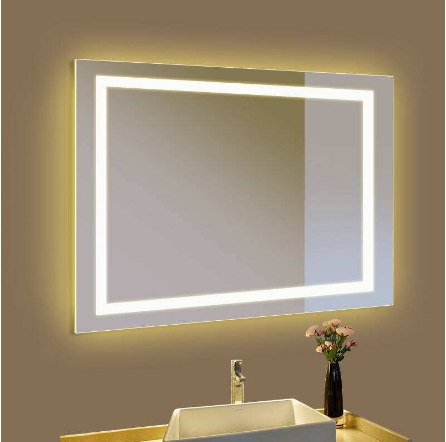 Anti fog film Installation:
Fix bathroom anti fog mirror film mirror onto the wall 
1. Junction box location: please fix the power supply and junction box in the place shown on the drawing.
2. Mirror support panel: In order to utilize heat energy more effectively, usually apply a 9-18mm thickness plywood panel to support the mirror from wall, In installation situation, the cable lead of bathroom anti fog mirror film may have some surplus length after finished the cable connection. Then we suggest opening a hole on the plywood panel as shown the drawing to hold the cable so that mirror is stable and flat after installation.
3. Cable connection: there is no live pole & neutral pole difference on bathroom anti fog mirror film's cable, connect the cable with power supply by connector
4. Fix the mirror on wall: apply some neutral silica glue to the plywood panel, and place mirror to the designated position

Installation Note
1. Pick the correct bathroom anti fog mirror film:
A.The voltage of bathroom anti fog mirror film should adapt to the supply voltage
B.The size of bathroom anti fog mirror film should be adapt to the size of glass, should not bigger than the glass size.
2. The bathroom anti fog mirror film should be definitely examined to ensure it is in good condition, no cut or drilled, if any damage, do not install. In addition, make sure the bathroom anti fog mirror film is unbroken after installation finished.
3. Do not drag the wire of bathroom anti fog mirror film.
4. bathroom anti fog mirror film is double insulated eliminating the need for an earth cable
5. Allow 1mm gap all around for mirror expansion if fitting into a wall recess
6. bathroom anti fog mirror film will not tug the power cord to and prevent damage to electronic board
Anti fog shower mirror pet /pvc film,anti mist film for mirror,Electric anti fog mirror pad