SMART SWITCHABLE GLASS & SMART FILM
Switchable Frosted glass at the touch of a button:
smart glass allows for discretion within seconds, for moments when you want to be protected from prying eyes. A simple push of a button, and the application of an electrical voltage changes the light transmission and the glass becomes opaque. smart switchable glass film is manufactured as a self-adhesive film, which makes it easy to apply to both new and existing glass panels.
How does it work
A simple On/Off mode switches Smart Switchable Glass from transparent to opaque. In the transparent mode, the smart switchable glass appears just like any other conventional glass panels providing unobstructed view and daylight penetration. In translucent mode, the smart switchable glass acts as an electronic blind providing privacy and security, while still allowing daylight penetration.  In 'On' or 'Transparent' mode, an electric current is passed through the PDLCs (Polymer Dispersed Liquid Crystal) interlayer which lines up the microscopic crystals along parallel axes, allowing vision through the glass.  In 'Off' or 'Translucent' mode, no electric current is applied so the PDLCs are arranged randomly in droplets, scattering light as it passes through the film. This results in a blurry milky-white colour obstructing vision through the glass.
ON GLASS OR BETWEEN GLASS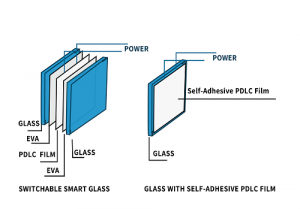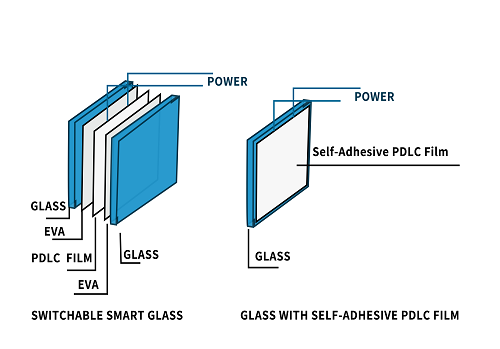 Smart Switchable Film is the perfect solution if you want to achieve the same results as Smart Glass without replacing existing glass panels. The only difference between our Smart Glass and Smart Film is the former has the Smart Film sandwiched in between tempered glass, whereas Smart Film can be applied on top of existing glass panels.  Smart Glass will have a higher durability than Smart Film because the film itself is completely sealed off from external factors. That being said, our Smart Glass and Smart Film are both designed and manufactured to last for years of usage.