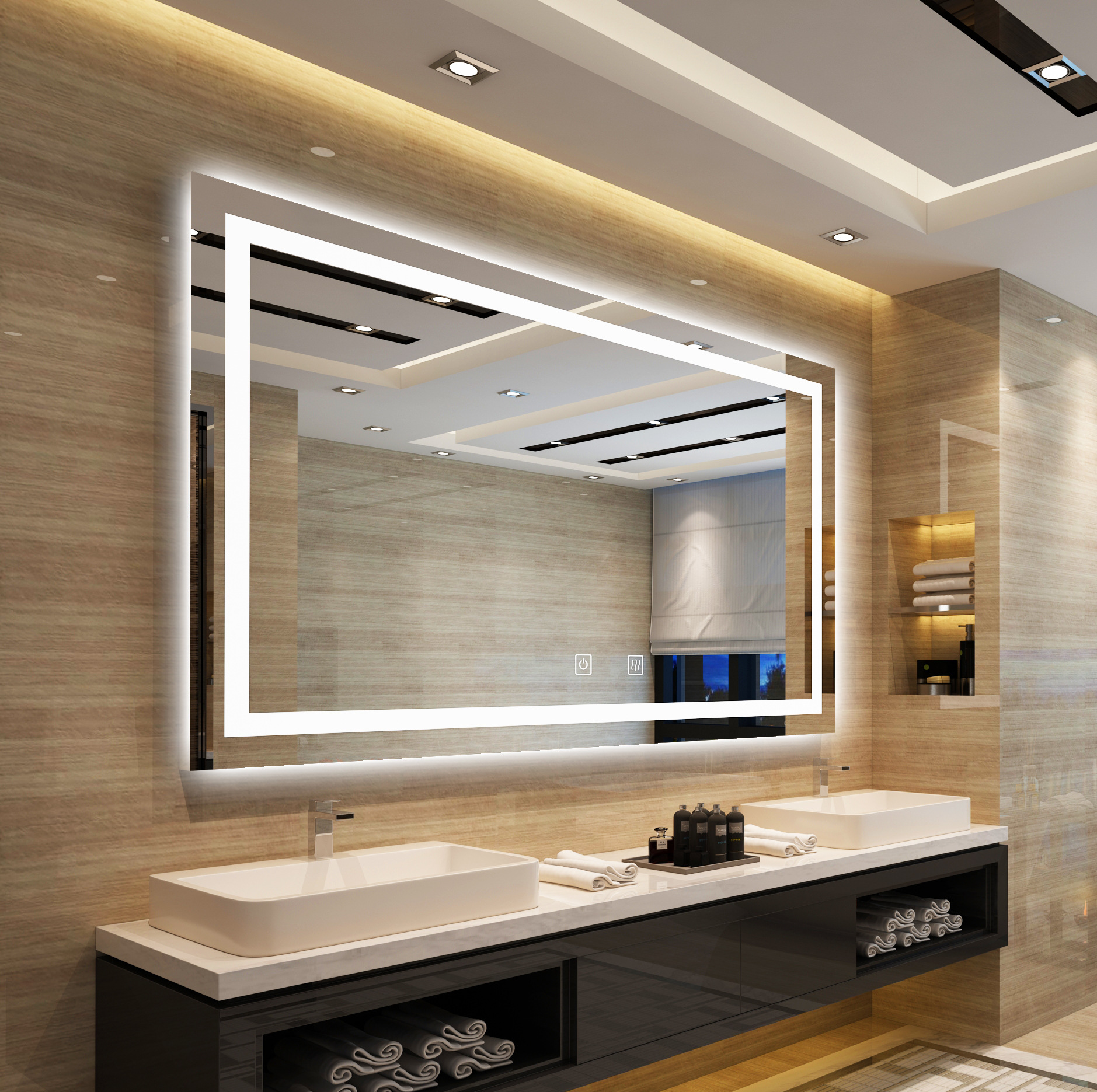 Mirror Defogger Anti fog film Electrically heated film Bathroom mirror anti fog film
New Mirrors Heating Pad, Mirror Defogger Pad,Bathroom Heater Mat LED Mirror Heating Film Systems Supply For Home And Hotels
The Bathroom mirror anti-fogging film is also called mirror defogging film, mirror defogging device, mirror heating film, mirror electronic anti-fogging film, etc. It is a professional bathroom mirror defogging product developed by our company, with stylish appearance, unique functions and reliable performance.
Mirror defogger is  also named Mirror Demister Pad,it is Used To Make The Bathroom Mirror Fog Free.
Mirror defogger Heater Pads are designed and engineered to prevents fogging up. A range of hi-tech demisters to ensure fog free mirrors in steamy bathrooms. Keeps the mirror free from mist and prevents fogging up.
Wire in to lighting circuit for easy mist free Mirrors. Straight connection to the lighting circuit so no extra switch is needed.
Mirror Defogger Mirror Anti-Fog PET Heating Film For Bathroom Mirror Cabinet Cupboard Glass
Advantage:
1. Made of imported PET material .
2. Easy to resist high temperature , with the softening point and hot melting temperature over 180°C and 260°C respectively ; never deforms when heating at low temperature ;
3. With outstanding wear-resisting property .
4. High electric insulation , no dielectric breakdown under 2750V for 1min.
5. Use imported heater strip .
6. Never harden in winter and soften in summer.
7. Meet international certification of CE,UL , SAA and PSE.UL.
FOG-FREE MIRROR: Pre-attached power leads can form a hardwired connection to your bathroom's 120V/220V/24V/12V lighting fixture, draws only a minimal amount of energy and operates at a constant, regulated temperature of 104°F and it only costs pennies a month to run.
ANTI-FOG MIRROR PAD: Turn any wall hanging mirrors into a anti-fog mirror
EASY TO INSTALL: The self-adhesive backing of the mat allows for direct application to the back of any of your existing bathroom wall-hung mirrors in just minutes and uses heat to keep fog from forming on the mirror's surface
SIMPLE AND COST-EFFECTIVE: This anti-fog heating element transmits gentle warmth across the mirror's surface, preventing the steam's moisture from collecting on the colder mirror surface while you bathe or shower (not suitable for installation in the shower)
110V/220V/24V/12V Bathroom/Bath/Washroom LED Mirror Anti-Fog Film/Demister/Defogger/Heating Pad/Fog Free Film
MIRROR DEFOGGER
ANTI FOGGY FILM
mirror demister Pad
It comes with self adhesive backing and  connection lead for easy installation. 2-Wires Design – Convenience for fixed place installation. Includes Lead Wire for Power(Red wire) and Ground Wire(Black wire)
The size of the heater pad 2" less than the mirror is the best suitable size to ensure maximum efficiency.
No thermostat required. Put it on a few moments before the bathroom steams up and you have a clear window on your mirror!
Products with electrical plugs are designed for use in the  destination countries. Outlets and voltage differ internationally and this product may require an adapter or converter for use in your destination. Please check compatibility before purchasing.
Manufactures Mirror defogger heater pads provide a clear mirror above the washhand basin even after a very hot shower.
Regarding to Installation:
Easy to fit are wire directly from Bathroom Lights. Wire in to lighting circuit for easy mist free Mirrors. Remember to plug it into light switch for easy control. (Straight connection to the lighting circuit so no extra switch is needed ) It also can be wired into the extractor fan so it automatically comes on when needed.
anti-fog film
mirror defogger
User's Tips:
1. Do not stretch or fold the pad.
2. Apply the heater pads to smooth and clean surfaces.
3. Stick the heater pad to the back of the mirror.
4. Clean the back of the mirror and let dry.
5. Peel back the paper from the adhesive, and then press firmly and smoothly over the intended placement area of the back of mirror.
6. The connection must be fused with correct amperage.
7.The model requires 12Volt /24Volt DC to operate. Please ensure the connection to the proper voltage and the proper "on/off" switch is used.
8.If you use it at home (220V/110 Volt), please wire it to a proper transformer (not included).
9.Red Wire=Positive(+); Black Wire=Negative(-).
10.Please ensure after installation the lead wires are securely located and will not hang below of the mirror.
11.If two or more heater pads are to be used they must be connected parallel.
12.The adhesive used is strong so be careful to ensure no bubbles when fitting.
13. Remember to mark up the mirror so that it goes on level.