PDLC Smart Glass Technology
Smart Glass is a state of the art laminated glass with a liquid crystal PDLC interlayer sandwiched between two sheets of glass.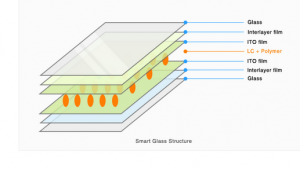 When the small electrical supply is switched on, the liquid crystal molecules align and incident light passes through and the our switchable  Smart Film instantly clears (transparent)
When the power is switched off the liquid crystal molecules are randomly oriented scattering light and the our switchable Smart Film becomes opaque (frosted, private).
Switchable Privacy Glass is translucent white glazing that can be changed, instantly, into a clear glass window providing easily-controllable, when-you-need-it privacy and security in both interior and exterior installations.We can offer unique functionality for creative applications.
Smart Glass Features:
&Privacy and security with architectural integrity
&Ultraviolet radiation protection
&Day-lighting control
&Solar heat-gain control
&Replacement for whiteboards and projection screens
&Eliminates need for shutters, blinds, and drapes
&Very low power draw (equivalent to a clock radio)