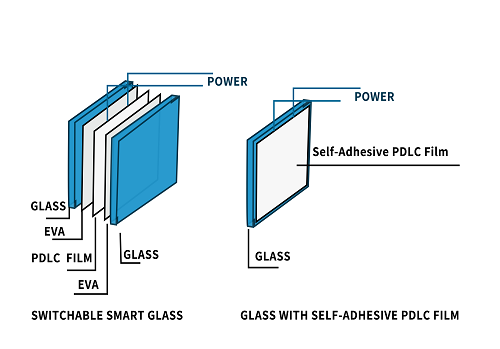 PDLC switchable smart film
Switchable smart film is one of the newer additions to window tint film options and is really A cool aspect to see in person.once electricity is applied, this smart film creates a frost opaque look but can switch back and forth from frosted glass to clear glass.
Smart film is useful for several purpose and can be included in a lot of different places while this option does require some additional look to connect to a power source in order for it to be operable. The effects are truly amazing and provide any space or area with privacy and beauty.
Unlike fixed glass, which is either opaque or transparent, switchable glass allows the user to choose its form and function. In addition, Switchable glass panels designers a broader range of glazing options that were unavailable using traditional glass.
Applications:
Corporate / leisure/ retail /Architects/interior designers /unique projects.
Privacy windows and doors in homes and offices.
Variable privacy room partitions
Electronic blinds curtains and artwork
Solar protection or radiant heat control
Security and safety panels
Skylights/ conservatory roofs/ Display cases
Sales kiosks,Car windows /Monitoring rooms
Single and double glazed facades
Bank and ATM doors