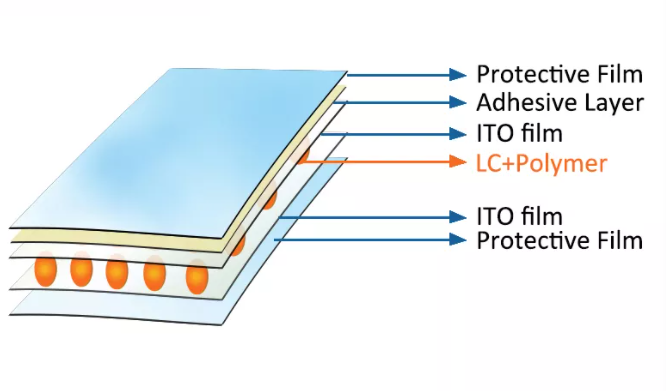 Self adhesive PDLC Film with self adhesive layer, it can stick on glass directly .
Attention:
1.Handle way of Smart film: the film can not be fold, if fold ,it is easy to damage ,then the film will not be work. Film should be roll forma or flat on the flat table.
2.Silicon sealant Glue: smart film can not be used with acide glue to seal film or glass four sides and busbar. must use the neutral silicon glue. suggest use: Toshiba GE381. If use wrong silicon sealant glue, we will not be responsible for the quality!
3.Busbar: Do not pull the busbar wire, it is easy to pull the busbar separate from the film or glass. and do not let two busbar wire touch, if so,it will be shortcut. the film will not work.
4.Film installation:right way to install film(put air out  from one side to side, can not  stick from both side to the central parts. after install the film, should use Neutral silicon glue to seal film side. then the film is waterproof and humidity proof.
5. Working voltage :Use the working voltage based on our products' requirments. Do not use other type and high voltage power transfromer from others. we suggest our power transformer, if want to use other power transformer, please contact us first. If the quality problem due to use other power transformer, we will not be resposible for this.
6.Smart film clean and glass:Do not use water to clean the film or glass, please use alcohol.