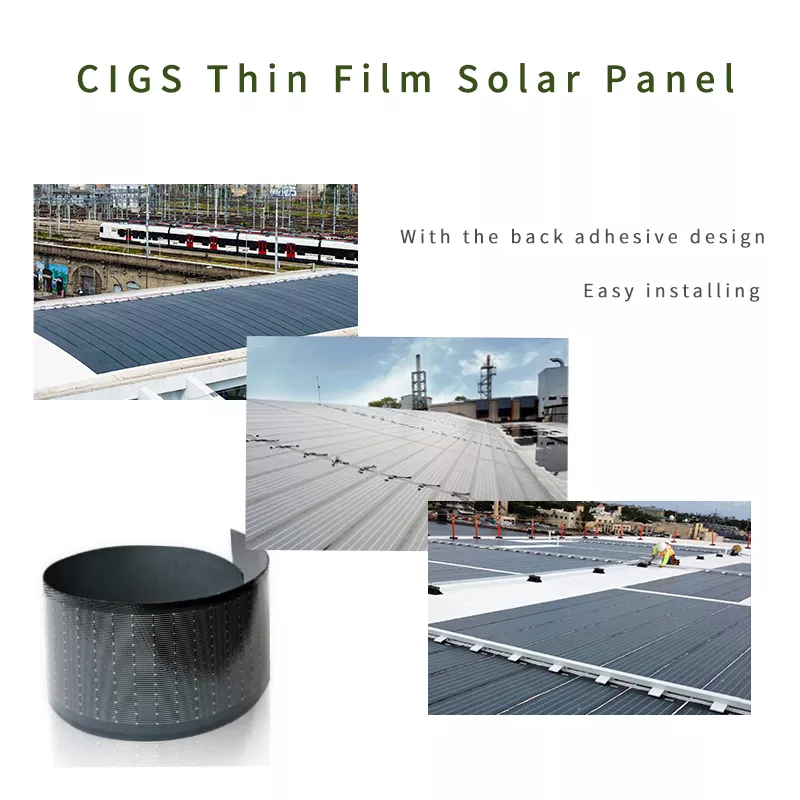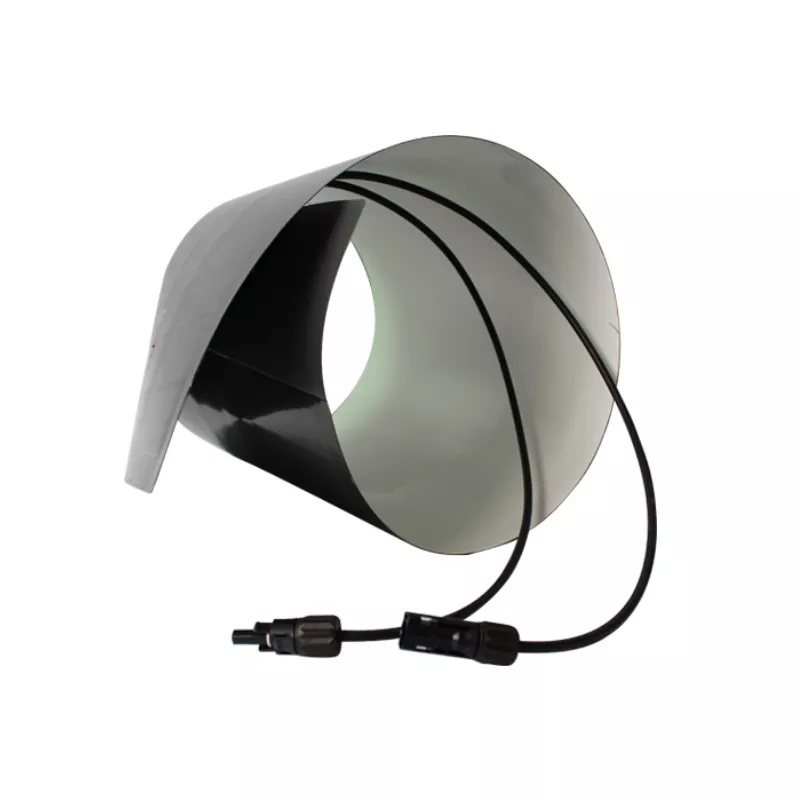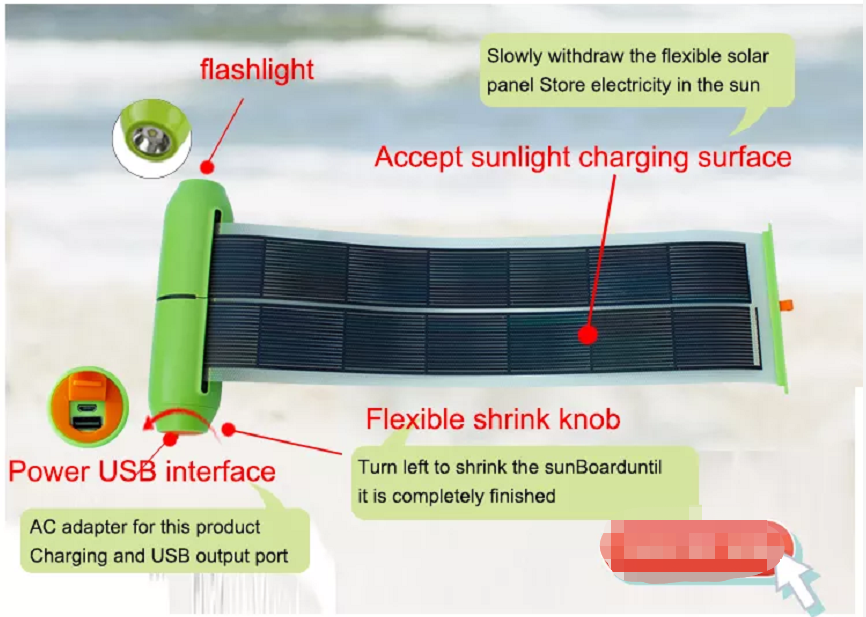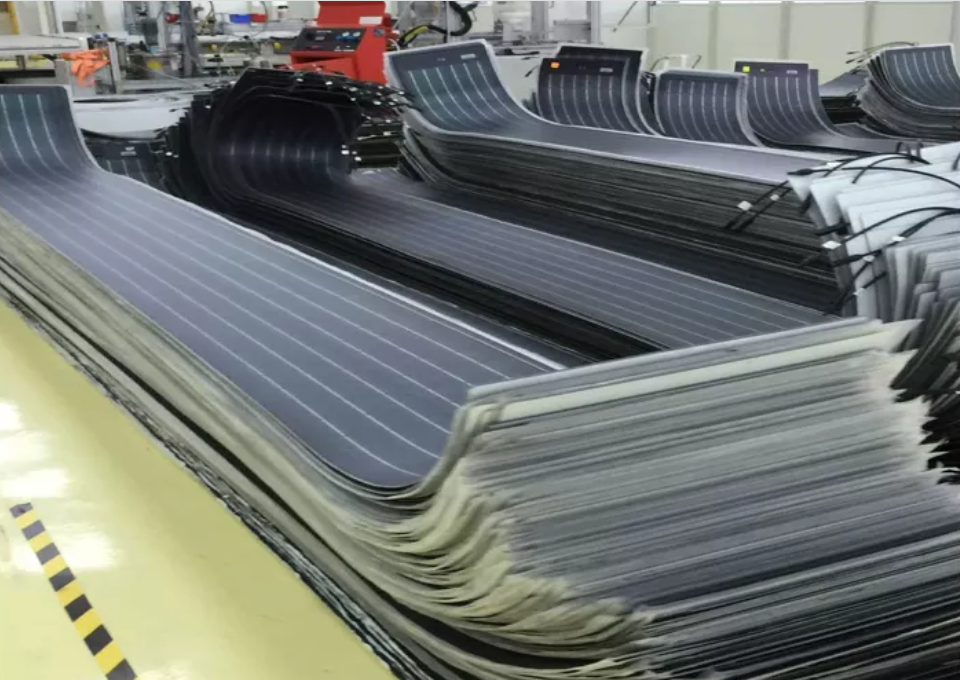 Flexible Solar Panel Amorphous Siliconthin Film-cigs flexible solar panel with amorphous silicon solar cell-Designed Specifically for roofs
【CIGS Technology】Copper indium gallium selenide (CIGS) is a thin-film solar cell technology. Unlike silicon-based solar cells, the CIGS thin-film solar cells are more flexible, stable, durable, light-sensitive, and last much longer. Therefore, investing in CIGS may provide you with more peace of mind and long-term benefits.
【360° Truly Flexible】Equipped with thin-film solar cells,  CIGS Flexible Solar Panel achieves truly 360-degree bendability. Thus, it achieves wider application than the crystalline semi-flexible panels or rigid panels on RV, marine, yachts, or any curved surfaces.
【More Stable Output】Thanks to wire-intensive CIGS tech,  CIGS Flexible Solar Panel is more stable than the monocrystalline solar panel. As a result, it will gather more energy while partly shaded or in low-light conditions.
Lightweight & Easy Installation】The CIGS solar panels are far more convenient to carry about than their rigid counterparts since they are, on average, 70% lighter and 95% thinner. And thanks to the tape on the back, it can be easily and safely installed where you need it without drilling holes or brackets.
【Extremely IP68 Waterproof】This ETFE-coated Flexible Solar Panel is IP68 waterproof and has improved rainfall drainage to lessen the influence of partial shade. The Connectors and Junction Box are also IP68 waterproofs. Therefore, it can operate well in a wet outdoor environment while outperforming a rigid panel.
1)Integrates with roof surface» No mounting hardware» No roof penetrations» No additional wind load
>>Flexible module» Fits many roof types» Durable, non-breakable>>Light weight» 3.5 kg/m2 (0.7 lb/ft2) with adhesive
» No structural reinforcement required
2)More energy per roof>>High efficiency CIGS» 10.5% to 12.6% aperture efficiency
» 50% more efficient than flexible a-Si>>High performance» Performs in all light conditions» Shade tolerant
>>Covers entire roof area» Lays flat. No tilt required» No module spacing required» Conforms to roof shape
3)Lower Installed System Costs>>Large format module» 250-300 Watts» 5.7m x 0.5m dimensions
» 30 to 40% BOS & Installation cost savings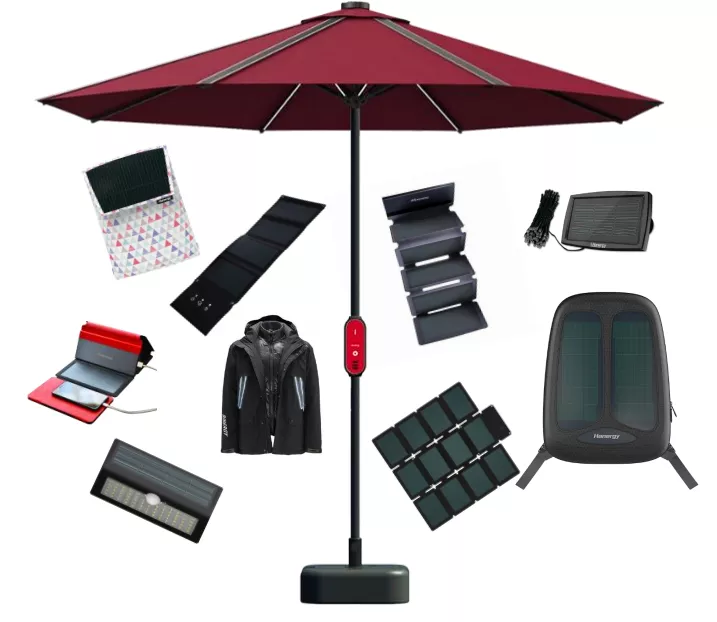 ELECTRICAL PERFORMANCE
Capacity rating
250W
275W
Tolerance of Pmax
± 7%
± 7%
Module aperture area efficiency
10.50%
11.50%
Rated voltage
48.6V

51.5V

Rated current
5.1A
5.3A
Open circuit voltage
65.4V
67.6V
Short circuit current
6.2A
6.3A
TEMPERATURE COEFFICIENTS
Low-Light Performance

Maximum power(Pmax)

(-0.43%/℃)
1000W/m2   100%
Maximum voltage(Vmax)
(-0.38%/℃)
500W/m2     99%
Open circuit voltage(Voc)
(-0.33%/℃)
200W/m2     91%
Short circuit current(Isc)
(-0.03%/℃)
MECHANICAL SPECIFICATIONS

Length
250W 5745mm                    275W   5745mm
Width
492mm                                    492mm
Thickness
3mm                                              3mm
Weight(without adhesive)
250W, 7.2kg, (2.7kg/m2)                275W, 7.2KG, (2.7kg/m2)
Weight(with adhesive)
250W, 9.5kg, (3.5kg/m2)                   275W, 9.5kg, (3.5kg/m2)
Junction Box – Top Mounted
yes
cables
4²
Junction Box – Bottom Mounted
not
Front Sheet

ETFE

Solar Cells
250W  108pieces cell               275W  108pieces cell
Adhesive
Butyl rubber
Hot Spot Protection
Materials
Maximum Series Fuse Rating
10A
Color Options
OPERATING CONDITIONS

Temperature Range
(-40℃- +60℃)
Maximum System Voltage
1000VDC  IEC  ,600VDC
QUALIFICATIONS AND CERTIFICATES

Match the follow standard:IEC61646  EN61730-1  EN61703-2    ICC-ES AC365  

 Materials and workmanship – 5 years;Power output –

25 years (90% @ 10 yrs; 80% @ 25 yrs) Limited Warranty
CIGS thin film solar cell chip is based on a flexible stainless steel substrate.
Compared to traditional rigid solar cells, it has significant advantages:
1.High conversion efficiency – absolute conversion efficiency up to 16%
2.Applicability and extensibility – could be tailored to the needs of the application
3.Minimum thickness — only 0.33mm thickness
4.Lightness – each solar cell weight is only 8.7g
5.Reliability – not fragile, safe and reliable
6.Innovation + convenient solar cells interconnection structure to meet different integration requirements.
cigs flexible solar panel with amorphous silicon solar cell
Flexible Cigs Solar Panel Thin Film
Technical data performance
| | | | | | | |
| --- | --- | --- | --- | --- | --- | --- |
| Conversion efficiency | Unit | >14.0% | >14.5% | >15.0% | >15.5% | >16.0% |
| Power | Pmpp/W | 1.91 | 1.98 | 2.05 | 2.12 | 2.18 |
| Maximum cell voltage | Vmpp/V | 0.524 | 0.537 | 0.541 | 0.546 | 0.552 |
| Maximum cell current | Impp/A | 3.647 | 3.686 | 3.785 | 3.875 | 3.957 |
| Open-circuit voltage | Voc/V | 0.651 | 0.663 | 0.667 | 0.671 | 0.676 |
| Short-circuit current | Isc/A | 4.165 | 4.155 | 4.238 | 4.299 | 4.364 |
Below is the advantages of CIGS solar panels compared to traditional rigid solar panels :
1. Flexible CIGS panels high conversion efficiency
2. Thin and light, thickness to 1.6mm and installation weight is 2.3kg/m2
3. Easy installation, no need support, block or drilling,just directly sticking on the surface of the installed.
4. Reliable, suitable for high wind pressure and earthquake and other dangerous areas
5. The bypass diode reduces the loss of the system shading power.
Thin film Solar Panel flexible chip as the core brings infinite possibilities to the roof building.
1.Excellent temperature coefficient, roof high temperature environment, obvious film power generation advantage
2.Light performance, higher tolerance for installation inclination
3.Especially suitable for light load and curved roof, 2.2kg /m2, no need of drilling and load bearing transformation, straightly bonding on the metal roof, TPO waterproof roof, less installation cost
4.suitable for high wind pressure and high vibration area, excellent static load capacity
5.Component bypass diode can effectively reduce the power loss and hot spot effect caused by leaves, foreign matters and shading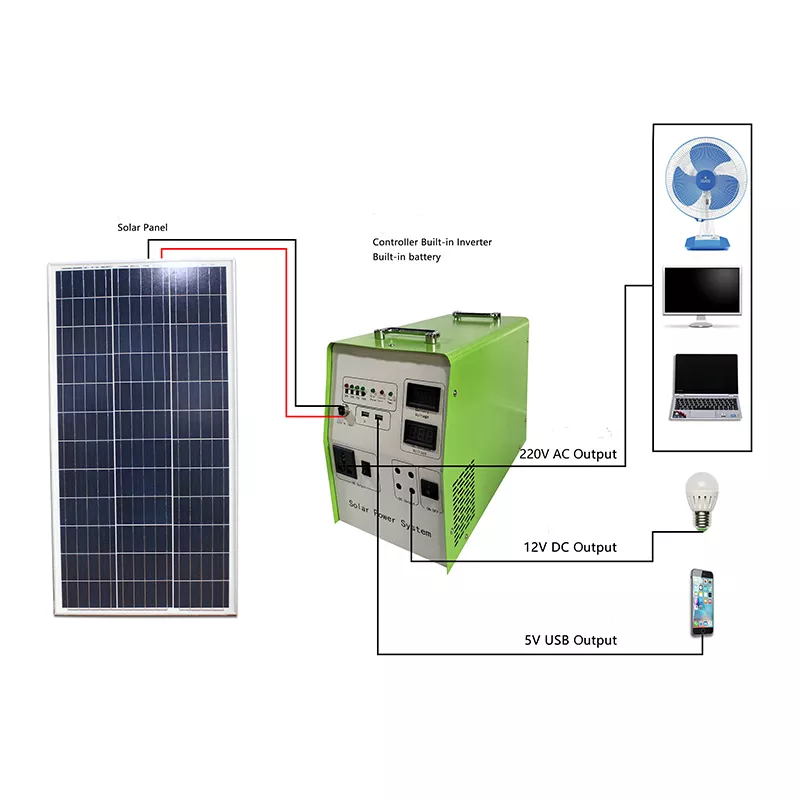 Packaging & Shipping
1.Packaging: standard carton plus wooden case or pallet.
2.Shipping: (1). Fedex/ DHL/ TNT/ UPS for samples, door-to-door.
(2). By air or by sea for batch goods.
3.Delivery: Goods to be ready within 10~15 days depending on order quantity.
Our Services
1.reply clients in 24 hours.
2.Quality in priority, clients the up most.
3.Customized design sunpower solar cell flexible panel is available, OEM is welcomed.
4.Delivery our goods to our customer all over the world with speed and precision.
Primary Competitive Advantages:
*Brand-name Parts*Country of Origin*Distributorships Offered*Experienced Staff*Green Product*Guarantee/Warranty
*International Approvals*Packaging*Price*Product Features*Product Performance*Prompt Delivery*Quality Approvals
*Reputation*Service*Small Orders Accepted