Materials and manufacturing process of CIGS solar cells
Like many other thin-film solar panels, CIGS PV modules are manufactured using four vital layers:
Protective layer
Photovoltaic material
Conductive sheet
Substrate
(Layers of the CIGS thin-film solar panel – Source: Office of ENERGY EFFICIENCY & RENEWABLE ENERGY)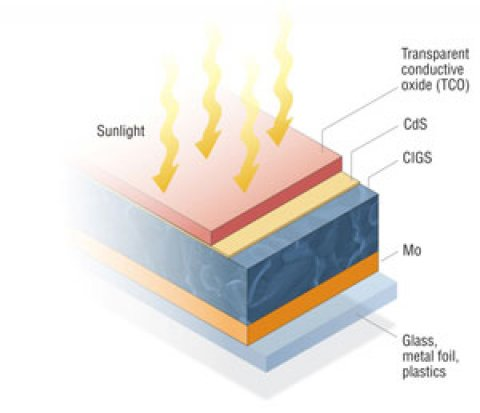 Each layer in the CIGS thin-film solar panel either plays a vital role in the solar energy conversion process or defines the application for the module.
There are different processes used in the manufacture of CIGS solar cells, some include Direct-Current (DC) sputtering which is a variation of physical vapor deposition (PVD), Chemical Bath Depositions (CBD), Chemical Vapor Deposition (CVD), or co-evaporation processes.
The materials used in each layer of the manufacturing process for the CIGS solar cell are the following:
Protective layer
The protective layer is called Transparent Conductive Oxide (TCO) layer. This layer protecting the CdS buffer from external damage is placed in the cell through sputtering or CVD. The TCO layer is manufactured with Intrinsic Zinc Oxide (i-ZnO) placed over the CdS buffer, and then covered with an AZO compound layer made of Aluminum doped Zinc Oxide (Al: ZnO).
Photovoltaic material or absorbing layer
The photovoltaic material is the heart of the CIGS solar cell. This is a p-n heterojunction manufactured by placing a p-type layer made from copper indium gallium selenide (CIGS) through co-evaporation and a p-type layer of Cadmium sulfide (CdS) deposited by CBD on top of the CIGS.
Conductive sheet
The back contact or conductive sheet is directly placed on top of the substrate, before placing the photovoltaic material. This layer is made by placing molybdenum (Mo) through DC sputtering, resulting in a highly reflective and conductive film working as the main contact for the cell.
Substrate
The substrate is the backbone of the CIGS solar cell. This is the first layer where the rest of the materials are placed, defining the flexibility and other properties of the cell. Varying on the desired properties for the module, substrate for CIGS solar cells can be manufactured with glass, a polymer called polyimide, or a metal foil of titanium, stainless steel, or a similar material.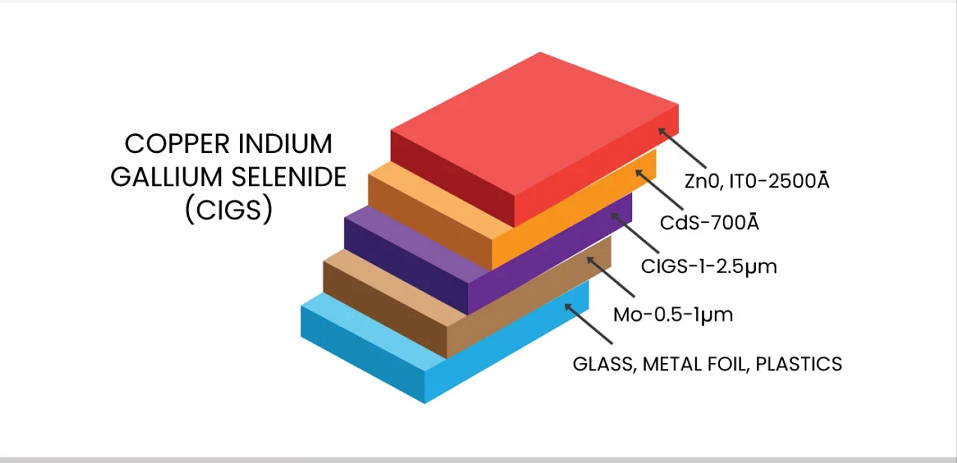 (Essay on What Are CIGS Thin-Film Solar Panels? When to Use Them? (solarmagazine.com)