PDLC Glass Applications
1. Commercial Applications:
Example 1:
Working as Projection screen function. Here, Switchable PDLC glass has another commercial name, called "smart glass projection screen", which means that the background decoration drawing can be displayed in a transparent state, or as a glass wall for a conference room. In the opaque state, it can replace the imaging screen(projection screen) and have more clear screen characteristics. In this way, the functional monopoly of the traditional cement wall is broken, and multiple roles are realized.
Example 2: Wall Partition of office area, conference room, monitoring room. Even if the large office area, by several walls or frosted glass partitions will appear narrow and stuffy, all use transparent glass design and lack of business confidentiality, then you do need a glass that can adjust the transparent luminosity to solve the trouble, monitoring room, conference room, business negotiations and other office areas, can be adjusted to full light transparent state, when needed, as long as the remote control is gently pressed, the entire area can be completely blurred from the surrounding eyes.
cuved smart glass for conference room
cuved smart glass for conference room
curved switchable glass
curved switchable glass
smartglass film off
smartglass film on
2.Residential applications:
Example 1: External settings-entertainment storage. Balcony bay windows with Switchable PDLC glass can revolutionize the poor privacy that can be seen by everyone in the building. In daily cases, adjust to a transparent state to maintain transparent lighting; in a casual state, in order to maintain a sense of security, it can be adjusted to an opaque state, but there is still sunlight to be close, Double WIN-WIN.
Example 2: Indoor space partition. The use of Switchable PDLC glass to separate the room, improve the space layout, increase the freedom of light adjustment, but also to ensure the privacy of different areas, will get unexpected results.
Example 3: Used as a small home theater screen, the screen and screen are effectively combined. (The principle is the same as that of the business projection screen)
Example 4, under the premise of choosing a safe voltage, the Switchable PDLC glass is used as a bathroom and toilet partition, which not only makes the layout bright, but also protects privacy very well.
Switchable glass windows OFF state
Smart window on state
Smart window off state
Switchable PDLC Glass wall off state
Switchable pdlc glass wall on state
Switchable glass window on state
3.Medical institution applications:
Can replace the curtain, play a partition and privacy protection function, solid safety, sound insulation and impurity, more environmentally friendly cleaning is not easy to pollute the benefits, for medical workers and patients to remove concerns and psychological pressure.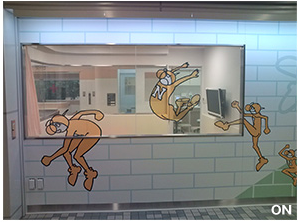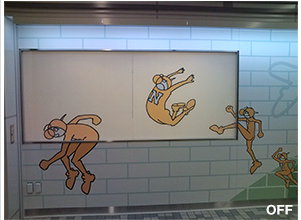 4.Anti-theft applications for museums, exhibition halls, shopping malls, and banks
Recommended for use in shopping malls, banks, jewelry stores and museums, exhibition halls of the window, counter bulletproof glass and display cabinet glass, normal business application to maintain a transparent state, once encountered unexpected situations, you can use remote control, instantly reach a blurry state, so that criminals lose the target, can maximize the safety of people and property.
Smart glass windows for Chure off state
Smart glass windows for Chure on state