With a push of a button transform the glass walls and windows from clear to non transparent. We cater to residential, commercial and vehicle projects.
Switchable Glass provides end users with a choice of either privacy or transparency, creating an innovative solution with aesthetically pleasing results.
Intelligent Glass is based on advanced technology and operates by applying a small electrical current through a specifically programmed transformer with CE certificates.. Several glass panels can be operated simultaneously with one or more transformers, depending on the surface area.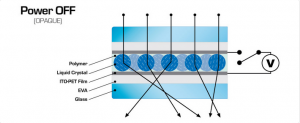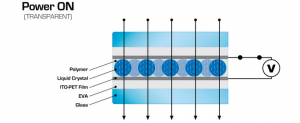 Specifications
Maximum Size: 1,800mm x 3,500mm
Minimum Size: Generally 200mm x 300mm (consult Sales Office for smaller sizes)
Thickness: 4+4mm, 5+5mm, 6+6mm, 8+8mm, triple laminate and more
Glass types: Clear float, ultra clear, color tinted, fire rated, bullet resistant glass, security glass
Processing: Tempering, polishing, grinding, radius corners, drilling, sandblasting, notches, cutouts, heat soaking, double glazed, triple glazed, curved and more.